A Collective Vision. And Discovery
Alvi Beauty Care was founded by Ms. Alvi Tan (M.Sc) and her father, Prof. Kee Huat Tan (M.Sc). Ms Alvi Tan was a supervisor of flight attendants in Emirates Airline and spent 12 years traveling around the world.
Through her flight attendant journey in the Middle East, she came across this organically advanced argan oil from Morocco that exudes plenty of benefits to everyone.
More About Alvi Beauty Care
Of Moroccan Co-op, and Origin
Our provider's ARGAN farm is located in the biggest ARGAN region of Moroccoand right within the source itself.
Additionally, our Argan oil products come directly from a carefully chosen network of organic-certified and fair-trade, women-run argan oil cooperatives.
This is why the argan oil we are offering is 100% pure, organic, and comes out of hand picked argan fruits.
More About Benefits Of Moroccan ARGAN Oil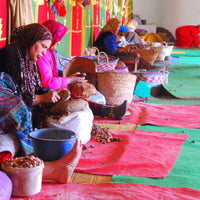 Your skin miracle is here.